March 23, 2022
Leashes of Valor Celebrates '5 Years of LOV' with Day of Service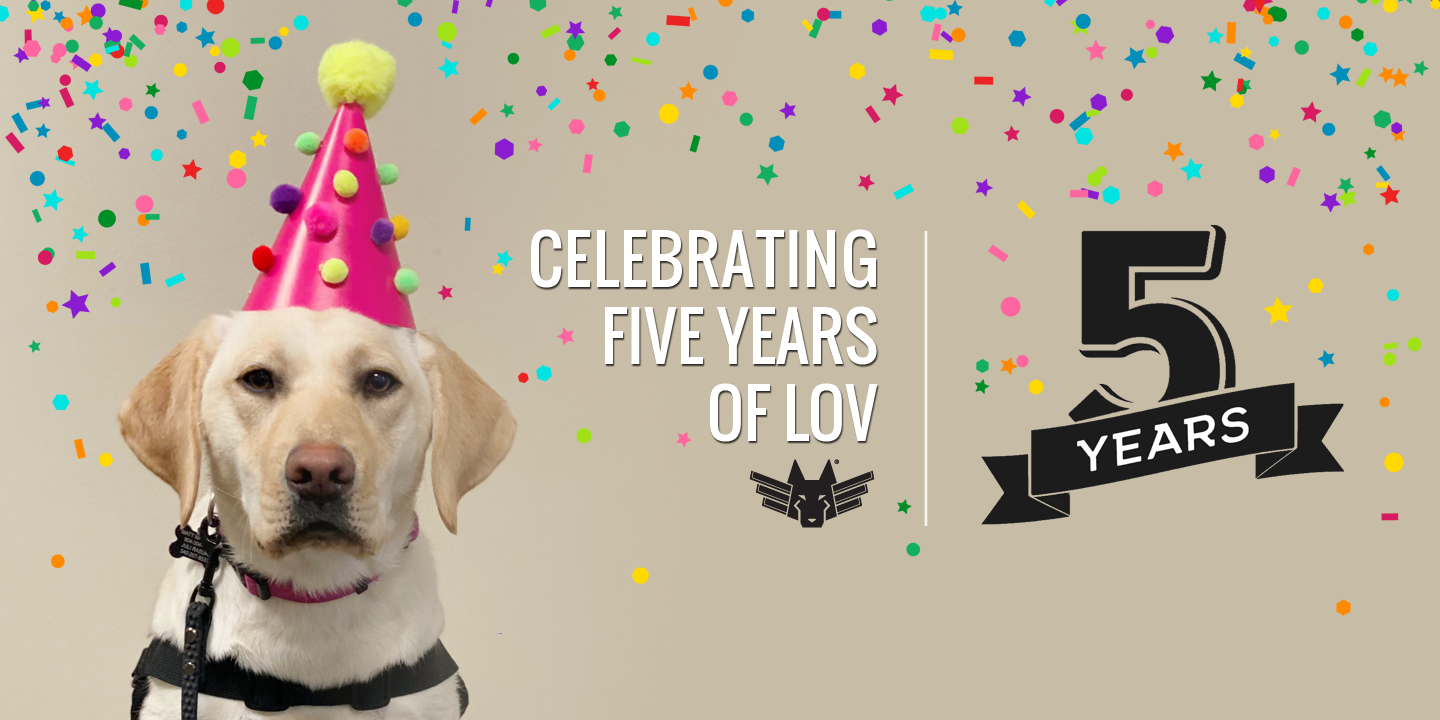 Leashes of Valor Celebrates 5 Years of Changing Lives
Day of Service and Celebration Scheduled for April 24
Milford, Virginia – Leashes of Valor will hold a day of service on April 24 to celebrate its fifth year of providing service dogs at no cost to wounded and disabled post-9/11 veterans.
The public is invited to the Leashes of Valor farm at 24114 Sparta Road in Milford, Virginia from noon to 3 p.m. to help tackle spring projects around the farm – painting, mulching, leaf collection and more.
"We'll have cupcakes, projects for kids and plenty of dogs to snuggle," said LOV President and co-founder Danique Masingill. "If you're a student or part of an organization in need of volunteer hours or if you just live in the neighborhood and want to see what Leashes of Valor is all about, we hope you'll stop by and say hello."
Leashes of Valor was founded five years ago in Caroline County, Virginia, by three military veterans, including Danique Masingill who spent five years as a Navy police officer; retired Marine Corps Capt. Jason Haag; and Matthew Masingill, 21-year Navy veteran. Together, they have more than 40 years of combined service and expertise in service dog policy and law, military canines and canine training.
"We know that service dogs can change lives because we've experienced it ourselves," said Haag, who credits his German shepherd, Axel, with saving his life following three combat deployments that left him with post-traumatic stress disorder and multiple traumatic brain injuries. "Our goal has always been to make sure other veterans experience that, too."
Over the last five years, Leashes of Valor has successfully paired nearly two dozen veterans with service dogs, provided five dogs to first responders and frontline workers and assisted in the care of more than 100 animals. Follow-up care for both veterans and dogs continues for life.
"Whether it's financial assistance or help with housing, employment or continuing education, we are there to help veterans not just survive but to thrive once they go home with their service dog," Danique Masingill said. "We don't do that alone. The people who have kept the doors open and the lights on for the last five years have been everyday Americans. This community has really helped our warriors recover. We are so grateful for every donation and act of support, and we can't wait to see what the next five years bring."
About Leashes of Valor
Founded by and for Veterans in 2017, Leashes of Valor is a national nonprofit working to provide a highly trained service dog to every post-9/11 Veteran who needs one to ease the symptoms of post-traumatic stress disorder (PTSD), traumatic brain injury (TBI) and military sexual trauma (MST). Our mission is as simple as it is critical: Bring service dogs and post-9/11 Veterans together to enrich the lives of both. Learn more at www.leashesofvalor.org.
---