April 8, 2022
Leashes of Valor Launches 'LOV Blue: Healing Heroes at Home'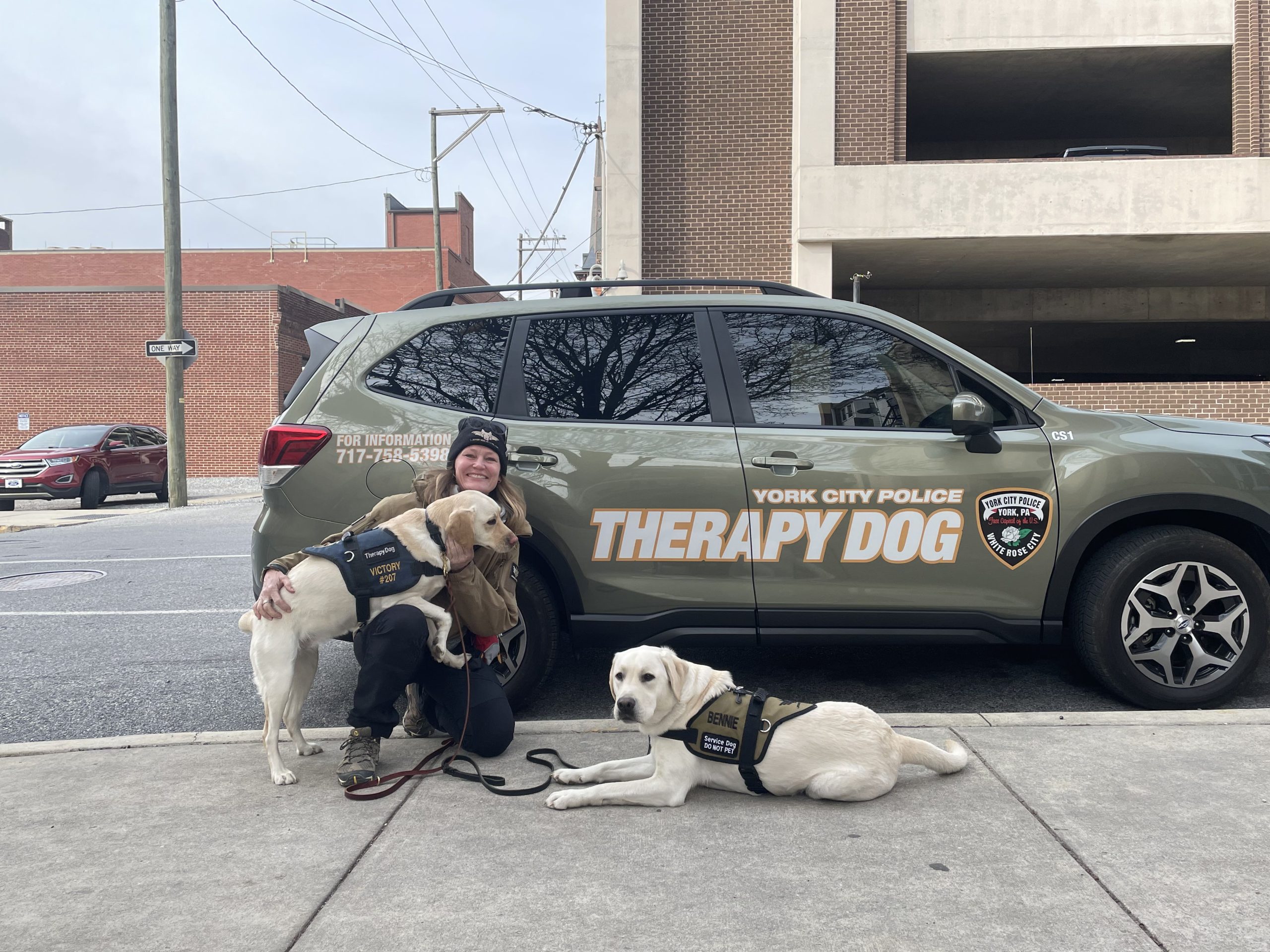 New program helps match therapy dogs with first responders, healthcare workers
Milford, Virginia — National nonprofit Leashes of Valor announced today the launch of LOV Blue, a comprehensive new program that matches facility and therapy dogs with police departments, healthcare facilities and other frontline industries to provide emotional, mental and physical comfort. 
Leashes of Valor has partnered with Throwaway Dogs Project, an internationally recognized nonprofit that repurposes, trains and places "misunderstood" dogs in law enforcement settings. The expert-led Blue Program finds, trains and places facility and therapy K9s and provides program setup, department training and education as well as grant funding.
"For the last five years, Leashes of Valor has paired service dogs with post-9/11 veterans to help with symptoms of post-traumatic stress disorder and traumatic brain injuries," said LOV President Danique Masingill, a former Navy police officer. "While we continue this lifesaving mission, we also want to make sure our heroes here at home have access to the healing power of canines."
More than 80 percent of first responders report experiencing a traumatic event. Unlike physical injury, a traumatic injury can happen almost daily, leading to cumulative PTSD. Similarly, healthcare workers are repeatedly exposed to traumatic events, which has been exacerbated by the COVID-19 pandemic.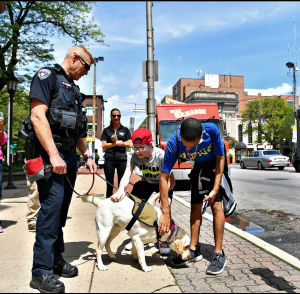 "I've been part of the 'Family in Blue' for 25 years," said Carol Skaziak, founder of Throwaway Dogs Project. "I know firsthand what invisible injuries happen as a first responder. It seemed only natural for me to join forces with Leashes of Valor to make a difference in the lives of our frontline workers."
Facility and therapy dogs can serve multiple roles, including crisis response and prevention; internal mental health support; wellness recovery center support; victim witness intervention; court trial victim support; community education; officer engagement and community relations. 
Since 2017, Leashes of Valor and Throwaway Dogs Project have worked closely to place single and dual purpose dogs in various police and agency jobs and with other first responders. The Blue Program expands that partnership. 
"Today, Carol and I are thrilled to announce that the Blue Program has placed its first therapy dog, Bennie, with the York City Police Department in Pennsylvania," Masingill said.
Alongside his handler, Sgt. John Huncher, Bennie bridges the gap between the department and the community by visiting the local school system to ensure children's first interaction with police is a positive one. They make weekly visits to York Hospital to see staff and patients and interact regularly with York City residents.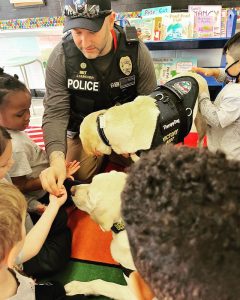 "It's the best job in the world," Huncher said. "I get to take a dog out, I'm never alone, I always have someone to talk to. Every time I deal or visit with people, they're happy to see him."
Bennie also works within the department's officer wellness division: "We take him around to make sure our officers have access to him if they want it."
The dog is also helping Huncher, a former Navy corpsman who deployed to Iraq and Afghanistan. In 2017, the officer lost a friend he'd served with to suicide. Soon after, a coworker and neighbor died during a training exercise.
"By the end of 2018, I hit rock bottom. I finally sucked it up, talked to somebody, got medicated," Huncher said. "I still have breakthrough panic attacks every now and then. After I got Bennie, I felt one coming on. Bennie was asleep. He woke up, stood on my chest, and then went back to sleep. He does as much for me as he does for everyone else."
The launch of LOV Blue comes after a successful pilot program that saw the placements of two highly-trained Labradors, Maggie and Victory, in 2020 and 2021. Maggie works as chief compassion officer for Philadelphia's Jefferson College of Nursing. Victory is a therapy dog for the York City Police Department. 
"Our goal in 2023 is to place five therapy and facility dogs with departments, health care facilities or other first responders," Masingill said. 
For more information about LOV Blue or to request a facility or therapy dog, visit the Leashes of Valor website or download the digital brochure.
About Leashes of Valor
Founded by and for Veterans in 2017, Leashes of Valor is a national nonprofit working to provide a highly trained service dog to every post-9/11 Veteran who needs one to ease the symptoms of post-traumatic stress disorder (PTSD), traumatic brain injury (TBI) and military sexual trauma (MST). Our mission is as simple as it is critical: Bring service dogs and post-9/11 Veterans together to enrich the lives of both. Learn more at www.leashesofvalor.org.
---