Foster
Leashes of Valor service dogs receive up to two years of training before they are paired with a Veteran in need. During that time, canines live with foster families. This vital network of volunteers provides love and care while teaching the dogs house manners and exposing them to the energy of work and family life. Get the answers to our most frequently asked foster questions.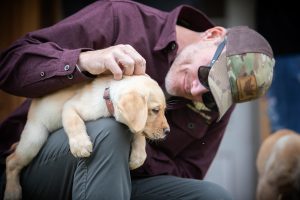 Fosters typically care for a dog for two to three months before the animal is rotated to a different household. The goal is to prepare our service dogs for any scenario they might encounter with their Veteran, whether they are single or raising small children, retired, or working outside the home.
If you want to get involved in a great cause helping restore our nation's Veterans with service dogs and you live within approximately 60 miles of Fredericksburg or Richmond, Virginia, send us a message. We have short- and long-term opportunities available and provide all the training, vet care, food, and supplies unless otherwise arranged.
Our training program consists of  10 to 12 dogs or more at any given time, and we provide lifetime care to service dogs once they are paired with a veteran. Shop our canine registry or donate from our list of most-needed supplies:
Dog food (Purina Pro Plan Puppy Large Breed formula and Purina Pro Plan Large Breed Formula Chicken and Rice)
Dog treats (made in the USA)
Busy bones
Collars and leashes for mid-size or large dogs
Cat collars and leashes (for puppies)
Balls and squeaky balls
Durable toys (Kong and Nylabone are preferred brands)
Crates
Training platforms

Donate
We rely on your support to provide service dogs at no cost to veterans with post-traumatic stress disorder (PTS), traumatic brain injury (TBI), and military sexual trauma (MST). No amount is too small, and by signing up as a monthly donor, your support helps cover expenses associated with raising and training a service dog year-round.
Here's what else your donation covers:
$10 provides a toy for enrichment for a service dog in training
$15 provides a slow feeder bowl to prevent choking
$35 provides food for a month for a service dog in training
$50 provides start up supplies for service dogs (i.e. collars, leashes, food bowls)
$100 provides a new personalized "service dog in training" vest
$200 covers flea, tick and heart worm medication for one dog for one year
$250 provides a starter kit for a veteran and their service dog (vest, leash, food, etc.)
$300 covers a large Rough Tough crate for safe transportation of the puppy in a vehicle
$800 covers an extra large aluminum lifetime guaranteed Impact Dog Crate
$1,000 covers a Dust Off Grant, which helps with emergency surgeries, retirement and end of life care for service dogs
$5,000 provides 500 hours of service dog training ($10 hour)
$10,000 covers an entire four-person, 10-day Warrior Class (includes travel, airfare, transportation, lodging, food, dog supplies, etc.)
$25,000 covers all costs associated with up to two years of service dog training (food, medical, supplies, training, etc.)