Apply For A Service Dog
Leashes of Valor provides service dogs at no cost to the Veteran.
Eligibility Requirements
To qualify for a service dog, you must:
Be a post-9/11 Veteran

Be retired or honorably discharged

Have a verifiable diagnosis of PTSD, TBI or MST by a licensed professional with a Masters Degree and qualified licensing.
Our Service Dog Program
By the time a Veteran is matched with a service dog, the dog has received all public access and task training. We provide an intense 16-day, in-house service dog program for our Warriors. This time together allows the Veteran and the service dog get to know each other, bond, and become a viable team, so that when they leave our farm they do so with a sound foundation for success.
We train our new Warriors as peers, in an environment where they can feel safe and confident to address their recovery as a part of a team. It is designed to feel familiar and to respect military culture in a nostalgic sense, creating a strong training platform. Follow-up communications with our Veterans after they leave us continue for life. This level of dedication to both our dogs and our Veterans is how Leashes of Valor is setting a new standard for excellence in the world of service dogs.
Request An Application
If you meet all of the criteria and would like be considered for a service dog, request an application.
Contact Us
Become A Foster
Leashes of Valor service dogs receive up to two years of training before they are paired with a Veteran in need. During that time, canines live with foster families. This vital network of volunteers provides love and care while teaching the dogs house manners and exposing them to the energy of work and family life.
Fosters typically care for a dog for two to three months before the animal is rotated to a different household. The goal is to prepare our service dogs for any scenario they might encounter with their Veteran, whether they are single or raising small children, retired or working outside the home. Many of our foster families also have other animals in the home, including cats, chickens and goats. Service-dogs-in-training have accompanied their fosters to gyms, schools, churches and even on vacations, just as they would with their Veteran.
If you want to get involved in a great cause helping restore our nation's Veterans with service dogs and you live within approximately 50 miles of our headquarters in Milford, Virginia, send us a message. We have short- and long-term opportunities available and provide all the training, vet care, food, and supplies, unless otherwise arranged. Get the answers to our most frequently asked questions.
Apply For A Dust Off Grant
If you are in need of care for your working or retired service dog or K9 and can't afford to pay for it, we are here to help. The Leashes of Valor Dust Off program can assist in covering these costs.
Sometimes life has unforeseen events that happen out of our control. That's where our Dust Off grant program comes in. Dust Off is a military term for the emergency patient evacuation of casualties from a combat zone.
We believe that working dogs deserve to receive the care they need for serving our nation and our nation's warriors. In honor of K9 Veterans Day in March, Leashes of Valor will be awarding five Dust Off grants in the amount of $500 each. To apply for one of these Dust Off grants, please email kristin@leashesofvalor.org to request and application.
When the Leashes of Valor staff approves a Dust Off grant for an animal owner, we will contact the individual requesting funds. If he/she is able to pay the balance of treatment costs (if any) over and above the amount contributed by the Dust Off grant, then we will notify the treating vet that funds have been approved for the necessary care. Leashes of Valor will then disburse the approved funds directly to the veterinarian.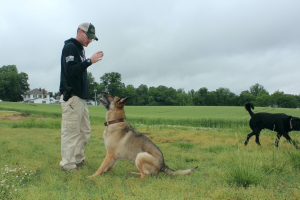 LOV Blue
At Leashes of Valor, we know the daily impact of trauma on the first responder industry. In fact, over 80% of first responders – police, firefighters, paramedics, EMTs and other rescue workers – experience traumatic events on the job, making them particularly vulnerable to PTSD. 
Similarly, healthcare workers are repeatedly exposed to traumatic events, with many on the frontlines of the COVID-19 pandemic for two years.
Unlike physical injury, a traumatic injury can happen almost daily, leading to cumulative PTSD. This can be even more dangerous than a single traumatic event because it's more likely to go unnoticed, and therefore untreated. 
LOV Blue is dedicated to ensuring our nation's first responders, healthcare workers and others have access to facility and therapy dogs to help ease their invisible suffering. These highly trained and socialized K9s provide emotional, mental and physical comfort to these workers as well as to the communities they serve.  
How it Works 
Our comprehensive program led by industry experts finds, trains and places K9s. Additionally, the Blue Program provides program setup, initial and ongoing handler training, department education, gear and access to grant funding. 
Facility and therapy dogs can serve multiple roles, including: 
Officer and first responder crisis response and suicide prevention

Internal mental health support

Wellness recovery center support

Victim witness intervention

Court trial victim support

Community education

Officer engagement and community relations
The Program
Since 2017, Leashes of Valor has worked very closely to place misunderstood dogs in police departments and with other first responders. We have jointly placed single and dual purpose dogs in various police and agency jobs. Beginning in 2020, we placed two facility dogs as part of the Blue pilot program:
Maggie, a highly-trained yellow Labrador who serves as chief compassion officer for Philadelphia's Jefferson College of Nursing comforting students, nurses, doctors, staff members, patients and even the facilities crew alongside dean of nursing and former Navy Nurse Corps reservist Marie Ann Marino. 
Victory, another yellow Labrador who is a therapy dog at the York City Police Department in Pennsylvania. Her handler, Officer Mike Reinart, has spent much of his career in mental health. Victory is not only helping bridge the gap between the department and the community, she is also part of an officer wellness program to help address the cumulative trauma experienced by officers there.
In 2022,  we are proud to launch the official LOV Blue program with the placement of Bennie, a yellow Labrador who is now working as a therapy dog at the York City Police Department.
Following the ongoing success of these placements, LOV Blue is expanding nationwide with plans to place three facility/therapy dogs in 2023. To learn more information about our program, download our digital brochure or contact info@leashesofvalor.org.