November 9, 2023
You Never Know the Significance of a Moment Until It Passes
Andrew and I called ourselves "nub buddies." We met at Walter Reed around the time we both received our prosthetics. After more than a year of limb salvage, endless doctor appointments, and a mountain of pills, the doctors decided to amputate, giving me a new beginning and a new chance at life.
We were both learning how to walk again and, having grown bored with the physical therapy treadmills and the daily routines, we decided to take a walk beyond the hospital gates to stretch our "legs."
You never really know the significance of a moment until it passes. On that beautiful fall day in 2010, we came across a discarded box on the sidewalk and, for some reason, decided to investigate. Imagine our surprise when we opened the box and saw a small, furry face looking at us. A puppy, perhaps 12 weeks old, with long limbs and a few white patches on his black fur.
After I was severely injured in Iraq in 2008, I lost control over so many things in my life, but one thing felt certain that day: I was meant to find this little black puppy, I was going to take care of him, and he was going to take care of me. I called him Gunner.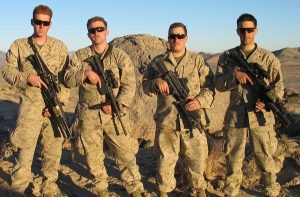 When I learned that Gunner couldn't join me for my appointments or live with me unless he was a service dog, my mom sewed him a little vest, and I enrolled him in every obedience and citizenship class I could find. You see, there was no Leashes of Valor back then. The nation was less than a decade into what would become two decades of war in which thousands of U.S. service members suffered life-altering injuries, many of them unseen, such as traumatic brain injury and post-traumatic stress.
Today, the VA reports that nearly 1 in 5 veterans from the wars in Iraq and Afghanistan have PTSD, and service dogs are increasingly recognized as treatment for the condition. That's in part because of the work of LOV founder Jason Haag, a retired Marine Corps captain who spent years educating the public and policymakers about the benefits of canines.
My injury, of course, was on full display. But with Gunner by my side, I realized that people no longer stared at my prosthetic. They looked at Gunner. And what a difference that made. Gunner was always present and never judging. He was with me through good days, bad days, awful days. His healing power was in his presence.
Gunner helped me fall into the role I was meant for. During the years of my recovery, I met my best friends through programs that sprung up during the forever wars to benefit those who'd suffered both physical and invisible injuries. These were people battling to get their lives back. I decided if they could do it, then I should too.
I knew I had to make sure that other veterans—not just from our wars but future generations of warriors—had the same opportunities I had to recover. I also wanted to honor those who did not get to come home. Leashes of Valor has given me a way to do just that. I love being part of an organization that works every day to ensure veterans have access to highly-trained service dogs and an entire community of people who care about them.
But we don't do it alone. As Veterans Day approaches, I want to thank you for your continued support of those who served. Together, we are changing lives one dog and one veteran at a time.
Chris Bowers is a retired Marine Corps corporal and wounded combat veteran of the Iraq War. He serves as Program Director for Leashes of Valor.
---