September 11, 2023
For One Horrified Moment, We Stood Alone. Now We Don't Have To.
By Jason Haag
Turn on the TV.
It was barely 6 a.m. on the West Coast when the phone shattered the early morning quiet—Dad calling from back home in Virginia.
I'd just come off a 48-hour shift at Camp Pendleton, my first duty station as a young Marine. There was urgency in Dad's voice. I switched on the television just in time to see a silver plane strike the sunlit World Trade Center's South Tower.
The sharpest edges of that morning are weathered now—time's wearing away at our memories. Twenty-two years later, I can't tell you what I thought or felt at the sight of it, at the slow sinking-in of our new reality. But I can tell you that as I stood in silence this morning in remembrance of the precise moment the world changed, it felt as fresh as yesterday.
Turn on the TV.
I never got a chance to sit down that morning. I imagine, though I am not certain, I roused my wife from sleep before turning around and heading back to Camp Pendelton. I don't know when I returned home. The next six months passed in a blur of stateside deployments and training as we worked to protect the West Coast and prepare for war.
I spent that Christmas Eve on a tarmac, scheduled to deploy to Afghanistan. We were ready, hungry for war in the way of those who don't know any better. The Marine Corps called us back at the last minute, a fleeting and temporary reprieve from the horrors that would shape us.
I went to war the following March, and like so many of my generation have been fighting ever since. Over the next two decades, more than 1.9 million members of the U.S. military served 3 million deployments to Iraq and Afghanistan. I would go three times—twice to Iraq and once to Afghanistan.
Turn on the TV.
Not even the sheer horror or gravity of those televised terrorist attacks played over and over and over again in the following days and weeks and months of 9/11 could have prepared me for what was to come. The brothers I lost to war and to invisible wounds inflicted by it. Their names are inked into my skin, a reminder of the toll that day continues to take a generation on.
It is why we are here, working every day to provide service dogs to wounded and disabled veterans who served during and after 9/11. Since the wars began and ended, four times as many active-duty service members and veterans have died by suicide than during military operations. I might have been one of them, if not for my service dog, Axel.
Turn on the TV.
I cannot unsee the images of that morning any more than I can change what happened. But I like to believe that from the black smoke and gray dust emerged the best of us—the best of America. For one horrified moment, we stood alone.
Now we don't have to.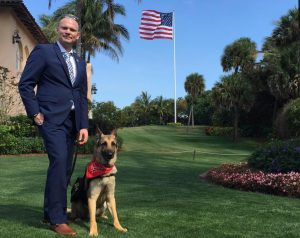 Retired Marine Capt. Jason Haag is founder and CEO of Leashes of Valor.
---