June 25, 2023
War Doesn't End Because We Can't Return to the Before Times. But That Doesn't Mean There Isn't Hope.
"Only the dead have seen the end of war," General Douglas MacArthur famously said in a speech at West Point nearly a decade and a half after the Allies defeated the Nazis.
Although the quote's origins are still debated—maybe Plato said it first, or perhaps Spanish-American philosopher George Santayana said it on the heels of the Great War—its meaning is unambiguous.
War is as certain a thing as life itself.
But for me, and I imagine for thousands of men and women who served in the now-concluded "forever wars" and have battled post-traumatic stress, that enduring quote has taken on another meaning during the intervening years. War doesn't end because we can't return to the people we were in the before times—before that day the towers fell and our fates were sealed. War doesn't end because we still carry the scars of our service, even now, more than a decade removed from the worst of it. War doesn't end because time, healer of wounds, does not erase the memories of how they got there.
This is not to say we can't live full lives in spite of all that. June is dedicated to raising awareness about PTSD: what it is, how to self-assess—June 27 is PTSD Screening Day—and where to find resources and treatment that can help.
Like many Marines of my generation, I am a combat veteran of two wars. In 2003, I crossed the Line of Departure from the desert of Kuwait into southern Iraq, where, as journalist Steve Watkins would later write, my "life revolved around sniper attacks, sporadic firefights, IEDs, blistering heat, and sleeping on the hard desert ground … [I] stayed in a constant state of hyper-vigilance and exhaustion."
Back at home, that hyper-vigilance was impossible to shut off. I was anxious, prone to rages, and plagued by nightmares. I washed down painkillers prescribed for my injuries with alcohol. I began avoiding crowds and public places altogether.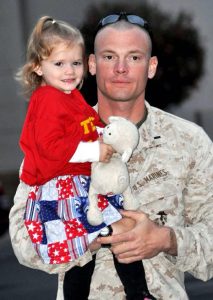 Of course, I know now I was exhibiting symptoms of PTSD, but it would take two more combat deployments—a second to Iraq and one to Afghanistan—before I finally sought help in 2011.
According to the Department of Veterans Affairs, nearly three out of 10 of those who served in the military during the wars in Iraq and Afghanistan will experience post-traumatic stress disorder at some point in their lifetimes. Deployment increases the risk of PTSD, with some studies showing it is three times more likely among veterans who deployed than those who didn't. We're also at greater risk for other mental health problems like depression and excessive drinking.
I checked all the boxes. At my worst, I lost 45 pounds and found it virtually impossible to leave the basement of our family home. The severity of my symptoms ended my Marine Corps career after 13 years of service.
Medications—I was prescribed 19 in a year and a half for everything from pain, anxiety, panic attacks, and depression to migraines, nightmares, and insomnia—did little to help. I tried various therapies: trips arranged for veterans, outpatient clinics, a 30-day stay at a veteran treatment facility.
Toward the end of 2011, after a chance encounter at the mailbox with a neighbor who had a service dog, I started on a path that saved my life. I met Axel, a high-energy German shepherd rescue who'd been trained as a service dog, in the late summer of 2012. The first time we met, he jumped on me and pressed his paws against my chest—and I wondered what I'd up signed for.
Over the next few weeks, I took Axel to a restaurant, a discount store, a Home Depot. I thought I was going to pass out. But I stayed because I had Axel. Four months later, I took a snowboarding trip to Colorado. I didn't realize how far I'd come—figuratively and literally—until I was in the hotel room with Axel. We looked at each other.
Holy shit, I said to him. We made it.
Axel did what nothing else could. He took me outside of myself.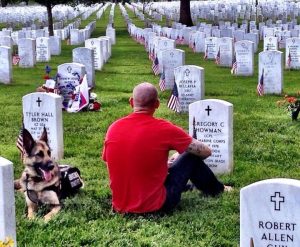 Everyone's path to healing is different. What works for some might not work for others. I'm grateful I found what worked for me—and I wanted to make sure other veterans who'd gone down similar paths also had access to service dogs. Over the next five years, Axel and I traveled the country sharing our story and raising awareness of the benefits of service dogs for veterans with PTSD and traumatic brain injuries. In 2017, I took the lessons I'd learned and founded Leashes of Valor, a nonprofit that to date, has provided more than two dozen service dogs to wounded and disabled veterans.
Axel, the dog that started it all—who made so much possible—died in January of this year. But his legacy lives on at LOV's headquarters, Axel's Place, where veterans come to meet and train with their new service dogs. His legacy lives on in me.
I have not seen the end of war. I'm not the person I once was. I am still losing brothers I fought and survived alongside of. Although Axel spent his final years retired, his death showed me just how much his presence in his life did for me. It's been two decades since I first went to war, but I still need a service dog.
The VA will tell you that "getting better" means something different for everyone, just like there is no-size-fits-all treatment for PTSD. For me, sitting here and sharing my story, is evidence that you can go through the depths and emerge on the other side.
For more information about PTSD, visit www.ptsd.va.gov.
Jason Haag is a retired Marine Corps veteran and the founder and CEO of Leashes of Valor.
---