January 17, 2023
K9 Axel, inspiration behind service dog nonprofit, dies at 13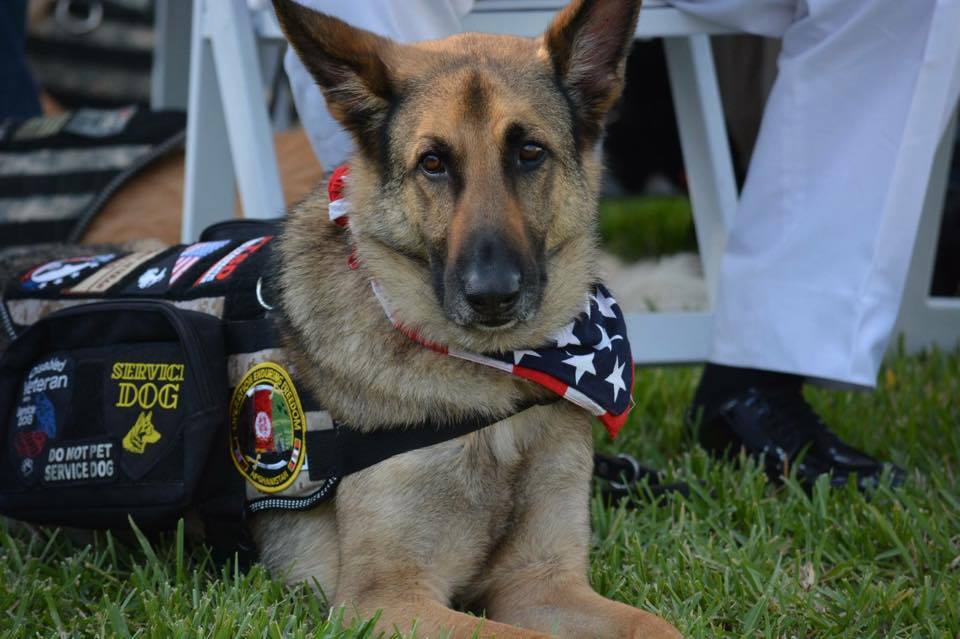 Axel helped change how policymakers and the public view psychiatric service dogs for military veterans
Fredericksburg, Va. — K9 Axel, a German shepherd who traveled the country alongside retired Marine Corps Capt. Jason Haag educating policymakers and the public on the life-changing benefits of psychiatric service dogs for military veterans, died at home Saturday. He was 13.
Over the years, Haag spoke at national foundations, universities, museums, Fortune 500 companies, and veterans organizations —always with Axel at his side—and more than 50 news organizations featured the pair, including People Magazine, CNN, ESPN Radio, MSNBC, and Fox News. They met a cross-section of musicians, actors, and politicians, including Paula Abdul, Kiss, Ali Sweeney, Montel Williams, Gary Sinise, Senator Chuck Schumer, Herschel Walker, and businessman and one-time presidential candidate Ross Perot, among others, showing that care for our nation's veterans transcends almost every barrier.
Along the way, Haag and Axel helped give voice to a community of veterans who, like him, had nowhere else to turn after exhausting a litany of medications, therapies, and rehabilitation programs.
Haag, who served three combat tours in Iraq and Afghanistan at the height of the wars there, struggled for years with debilitating symptoms of post-traumatic stress disorder and multiple traumatic brain injuries. By the time he met service dog Axel in 2012 at K9s for Warriors, Haag was taking more than 30 medications a day and was considering suicide.
"Axel saved my life," Haag said. "Did he pull a gun out of my mouth or keep me from having a heart attack? No. But he kept me from putting a gun in my mouth. I had a reason to get up in the morning."
In 2015, Axel was an American Humane Association's Hero Dog of the Year finalist—taking home the title of Service Dog of the Year in a televised gala in California. Ironically, the airline Jason and Axel flew on did not allow Axel to board the plane on the trip home. Undaunted, Jason went on to advise Congress, the U.S. Department of Transportation, the Government Accountability Office, and the airline industry on wide-ranging policies regarding service dogs. Psychological service dogs like Axel have not always enjoyed strong legal standing, but that changed with the federal regulations that protect their status while limiting abuses by emotional support animals. Axel played a major role in that change.
In 2017, Jason founded Leashes of Valor (LOV), a Fredericksburg, Virginia-based national nonprofit that provides service dogs at no cost to veterans suffering from the unseen wounds of their military service. The organization has successfully paired more than two dozen veterans with service dogs.
The ultimate goal of a service dog is to one day live without one, and Axel retired in 2018 while Haag continued helping ensure other veterans enjoy the lifesaving benefits of service dogs.
"Today, I'm able to go and tell my story without Axel. I can never repay him for that," Haag said.
Jason and Axel were together for more than a decade, and they were together at the end of Axel's life. "He left this world surrounded by love," Haag said.
"Axel wasn't just Jason's service dog. In a way, he belonged to all of us, and our hearts are with you all of those who have followed Jason and Axel's journey," said Leashes of Valor program director Chris Bowers. "The love you have shown Jason and Axel and the organization our hero dog helped inspire has sustained us over the years and will continue to inspire the work we do every day. Love—and LOV—lives on."
About Leashes of Valor
Founded by and for Veterans in 2017, Leashes of Valor is a national nonprofit working to provide a highly trained service dog to every post-9/11 Veteran who needs one to ease the symptoms of post-traumatic stress disorder (PTSD), traumatic brain injury (TBI) and military sexual trauma (MST). Our mission is as simple as it is critical: Bring service dogs and post-9/11 Veterans together to enrich the lives of both. Learn more at www.leashesofvalor.org.
---