May 11, 2022
Leashes of Valor welcomes first all-female class of veterans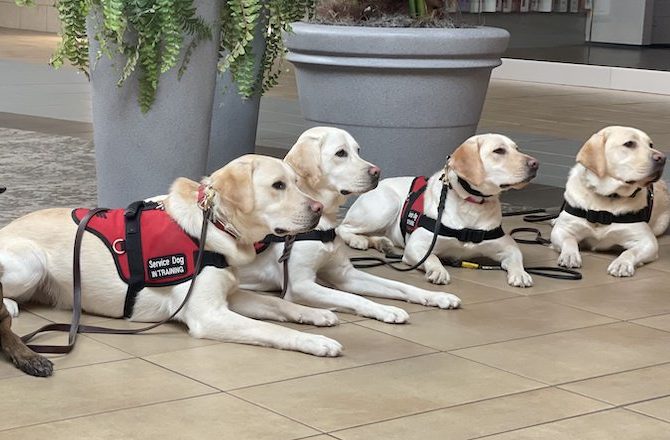 4 veterans receive service dogs, train for 10 days
Patriot Point, Md. — Leashes of Valor, a national nonprofit that provides service dogs at no cost to veterans with PTSD and other "unseen" injuries related to their military service, will welcome its first all-female class of warriors this week.
Four female veterans with more than 36 years of combined military service will receive and train with their service dogs during a 10-day program at Patriot Point, a 290-acre retreat for wounded, ill and injured service members on Maryland's Eastern Shore. The program will begin May 13.
Service dogs are increasingly recognized as a treatment for PTSD and can help decrease symptoms by as much as 80%. Women are the fastest growing segment of the veteran population, representing about 1 in 10 of the total. Yet even as women continue to make tremendous strides in the military, they are less likely than their male counterparts to ask for help – and report barriers in accessing care when they do.
Combat operations, military sexual trauma (MST), feelings of isolation and family stressors make it difficult for many women to transition to civilian life, according to the Department of Veterans Affairs. A significant number go on to develop PTSD. One in four female veterans has MST, a form of PTSD.
"There is no Purple Heart for what many of these women experienced. For those with MST, their injury can be even more significant due to an added layer of betrayal because it was done to them by their own uniform," said Leashes of Valor founder Jason Haag. "We want these and other women to know that they are deserving of resources for the trauma they endured. They showed up on the yellow footprints like everyone else. We're so proud to welcome these warriors."
In addition to bonding with their new dogs and learning the basics of handling a service animal, class members also receive extensive hands-on public access training. The veterans come from across the United States – Ohio, North Carolina, South Carolina and Florida.
"This time together allows the Veteran and the service dog to get to know each other, bond and become a team so that when they return home they will have every chance for success," Haag said.
Currently, the VA and most private health insurers do not cover the cost of service dog treatment. Leashes of Valor provides service dogs – which can cost from $25,000 to $40,000 or more – at no cost to post-/911 veterans thanks to private donors and supporters.
"The veterans we welcome this week are the epitome of courage," said Haag. "Many who served spend years trying to hide their invisible trauma. Having a service dog is showing people every day that, 'Yes, something bad happened to me, and no, I'm not OK. But I have this tool to help me get better.' "
About Leashes of Valor
Founded by and for Veterans in 2017, Leashes of Valor is a national nonprofit working to provide a highly-trained service dog to every post-9/11 Veteran who needs one to ease the symptoms of post-traumatic stress disorder (PTSD), traumatic brain injury (TBI) and military sexual trauma (MST). Our mission is as simple as it is critical: Bring service dogs and post-9/11 Veterans together to enrich the lives of both. Learn more at www.leashesofvalor.org.
---