September 13, 2022
Military Veterans Find Healing and Purpose in Inaugural Valor Cup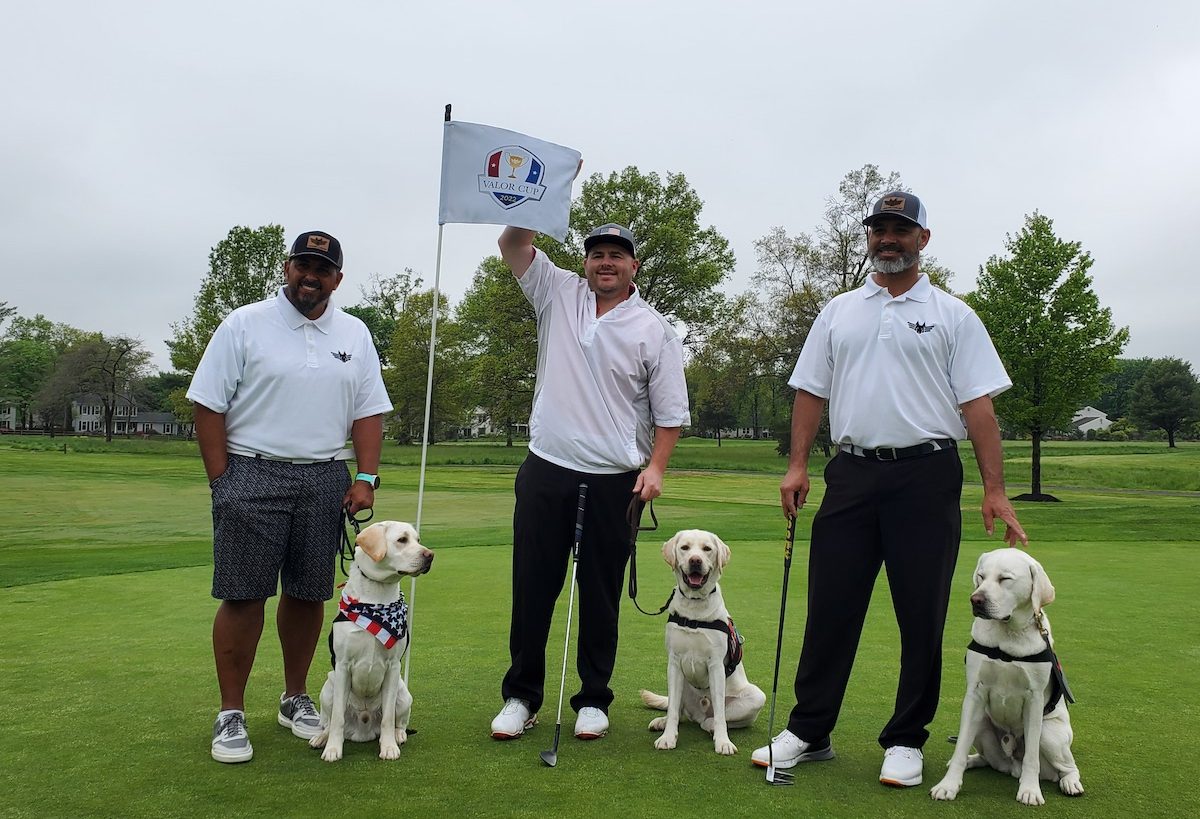 Ryder Cup-style tournament set for Oct. 10-11 at The Federal Club
Glen Allen, Virginia — When Chris Landeros, an Army infantryman, took up golf in 2007, he couldn't have imagined it would one day save his life. But that's what happened a decade later when he went searching for answers to the unexplained pain he experienced every time he swung a golf club.
"I only had pain when I golfed," Landeros said, and the discomfort would linger for weeks. After six months of visiting doctors' offices and the emergency room, a doctor finally ordered an MRI.
Landeros, 32, had bone cancer. 
"If it hadn't been for golf, it probably would have been too late for me," said Landeros, who is among 15 military veterans who will compete in a golf tournament at The Federal Club in Glen Allen, Virginia Oct. 10-11. 
The inaugural Valor Cup presented by Palantir Technologies is a Ryder Cup-style golf tournament dedicated to those whose lives have been impacted by their military service. During two days of match play, Team Courage–veterans from Virginia, Maryland, North Carolina and South Carolina selected through qualifying events this spring–will compete against Team Honor–24 golfers selected through sponsorship, founders' picks and club qualifiers.
The Valor Cup is the flagship fundraising event for Leashes of Valor, a national nonprofit based in Milford, Virginia, that provides service dogs at no cost to wounded and disabled post-9/11 veterans. 
"The wounds of war affect as many as one in five veterans, and we don't always see their pain," said Leashes of Valor co-founder and CEO Jason Haag, a retired Marine Corps captain and wounded combat veteran who graduated from Old Dominion University. "But we have seen the profound effect our service dogs make on helping veterans resume living full and complete lives."
Haag founded Leashes of Valor in 2017 after a years-long struggle with post-traumatic stress disorder and traumatic brain injuries sustained during combat deployments to Iraq and Afghanistan. 
"For many of us, golfing is more than just a game. It's re-establishing those bonds we haven't experienced since leaving the military," said Valor Cup Program Director Chris Bowers, a retired Marine Corps corporal who decided to serve his country after watching the events of Sept. 11, 2001 unfold in his high school classroom.
In 2007, Bowers deployed with the 2nd Light Armoured Reconnaissance Battalion in Iraq, where he was severely injured during combat operations. After two years of battling chronic pain and limb salvage, doctors amputated his left leg to give him a better chance at a full recovery. Months later, he took his first steps in his new prosthetic.
"Golf got me up and going again. It gave me an alternative to sitting and feeling sorry for myself," Bowers said.
After enduring eight months of grueling, in-patient chemotherapy for bone cancer and two 30-hour surgeries to save his leg, Landeros went back to playing golf as part of recreational therapy. Although he recovered, "I didn't recover to the standard of the Army." 
Landeros medically retired after 17 years of service. "I've put a lot of effort into my swing that can work with my leg and back," he said. "When I'm golfing, I have no problems. I don't have PTSD. I'm just a healthy, regular person on the golf course. When I'm with the other golfers on the team, it's not just me on my own. Since the Army, I haven't had that."
About Leashes of Valor
Founded by and for Veterans in 2017, Leashes of Valor is a national nonprofit working to provide a highly trained service dog to every post-9/11 Veteran who needs one to ease the symptoms of post-traumatic stress disorder (PTSD), traumatic brain injury (TBI) and military sexual trauma (MST). Our mission is as simple as it is critical: Bring service dogs and post-9/11 Veterans together to enrich the lives of both. Learn more at www.leashesofvalor.org.
---