October 7, 2021
REC awards Leashes of Valor $15,000 Power of Change Grant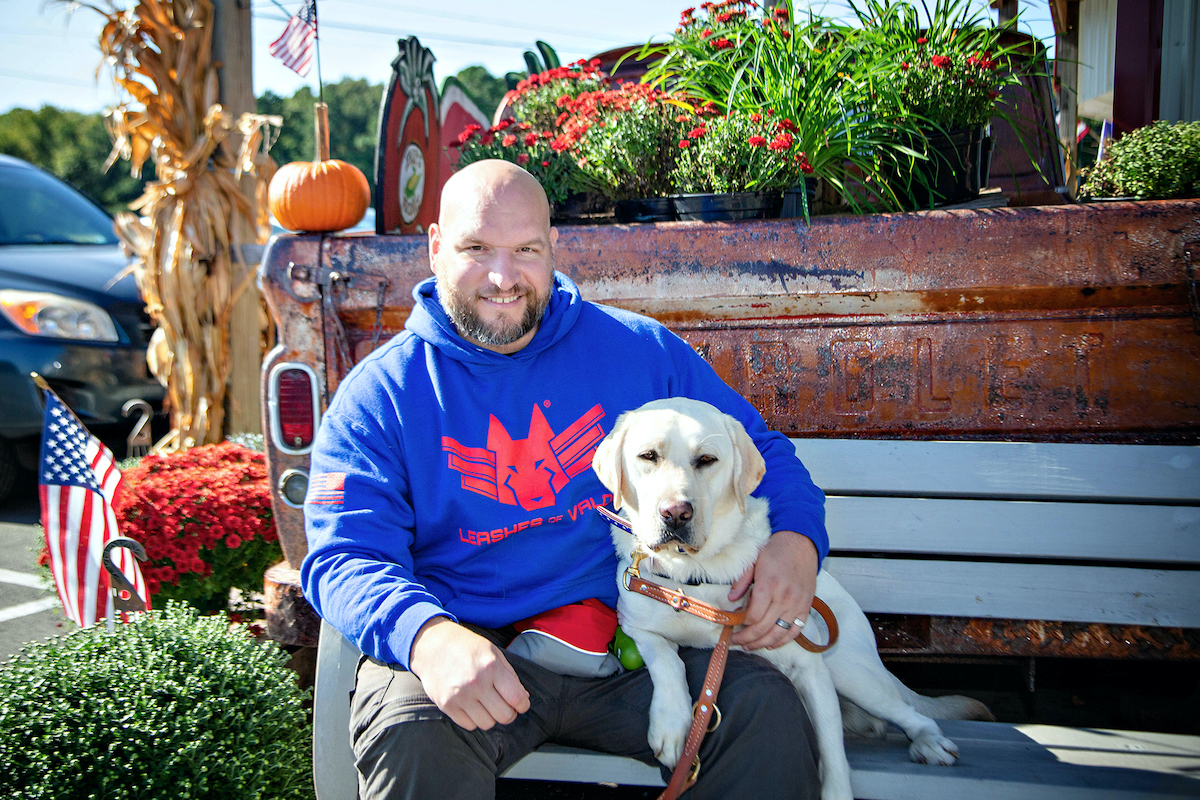 Leashes of Valor recently received a $15,000 Power of Change grant to help our mission providing service dogs at no cost to post-9/11 Veterans suffering from post-traumatic stress disorder (PTSD), traumatic brain injuries (TBI) and military sexual trauma (MST).
The Power of Change receives its funding from Rappahannock Electric Cooperative (REC) members who volunteer to have their electric bill rounded up to the next whole dollar, make a one-time donation or give a set monthly amount. Those donations are then awarded twice each year to non-profits and charitable organizations throughout the communities REC serves.
"The support and generosity of others allows us to carry out our lifesaving mission," said Leashes of Valor CEO Jason Haag, who helped co-found the nonprofit after his service dog, Axel, changed his life. "We are incredibly grateful for all those who participate in The Power of Change program and to REC for recognizing the importance of helping our wounded Veterans heal."
Twice a year the donations from The Power of Change are made available to non-profit, charitable organizations across their service territory. These funds are invested back into communities. A member's donation may only be a few cents a month, but donations add up and can make a huge difference for organizations.
"We see every day how service dogs are helping our Veterans return to the activities many of us take for granted, like going to the grocery store or attending a child's soccer game. These are men and women who sacrificed for our nation and who have often suffered in silence for years," Haag said. "The impact of something as seemingly small as $6 a year can truly impact a life–and last a lifetime."
If REC provides your power, we ask that you consider supporting The Power of Change to help others in need. Once enrolled, the extra change from your electric bill will be dedicated to charitable causes. Members can sign up by visiting ThePowerOfChange.org or by calling 800-552-3904 for more information. The average member contribution is approximately $6.00 per year and is tax deductible. An annual statement of your charitable contribution will be mailed to you.
About Leashes of Valor
Founded by and for Veterans in 2017, Leashes of Valor is a national nonprofit working to provide a highly-trained service dog to every post-9/11 Veteran who needs one to ease the symptoms of post-traumatic stress disorder (PTSD), traumatic brain injury (TBI) and military sexual trauma (MST). Our mission is as simple as it is critical: Bring service dogs and post-9/11 Veterans together to enrich the lives of both. Learn more at www.leashesofvalor.org.
---